gallery one | gallery two
gallery three | gallery four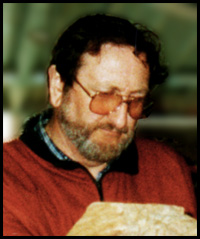 Dave Bradsworth 1944-2000
Dave Bradsworth died on November 30th 2000.
Dave lived and worked in Cardiff, the capital of Wales in the UK. He grew up in Leicester in the English Midlands training as a toolmaker making jigs and fixtures for the aircraft industry. This led to his position as quality control manager for a large manufacturing group in the UK.
In 1988 he was diagnosed with cancer and while recovering from treatment took up woodturning as a hobby. With his natural ability and love of wood his work soon became appreciated and sought after. He demonstrated at craft fairs and wood festivals around the UK and trained other woodturners. He had many visitors from Australia, USA and Japan, all of whom he welcomed enthusiastically.
Dave described his approach to woodturning thus:
"Using only timbers native to the UK I try to use distinctive malformations, burrs and grains to expose the natural beauty of the living tree. With conservation in mind, I use natural wind-blown timbers and those from managed woodlands."
When asked, if re-incarnated, how he would wish to return, Dave would put his legs together and spread out his arms, tree-like. Dave's ashes were placed beneath a newly planted Burr Elm in Westonbirt Arboretum.
Site last updated 26 March 2001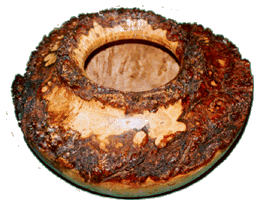 This site contains approimately 70 examples of Dave Bradsworth's work arranged into four galleries..